Plant Seeds
Featured Item
Pelican Flower - 20 seeds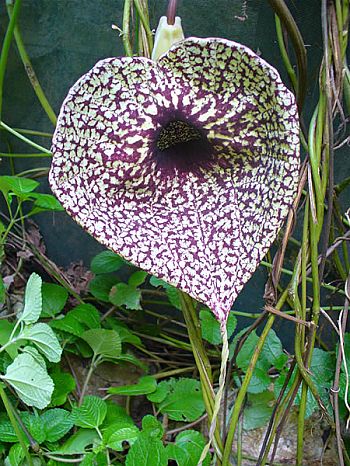 The Pelican flower vine also known as Dutchman's Pipe, Fly Catcher flower, or Aristolochia grandiflora is native to Central America.

This vigorous vine produces giant and very attractive flowers of up to 8" wide with a characteristic long tail. Once the flower opens it is cream color on the outside with a dark red center.

But the most interesting characteristic of these flowers is that they give off a strong scent that attracts flies to it. Once the flower opens, flies get attracted inside of the flower and get trapped helping in flower pollination. Usually you can open a flower and find a bunch of dead flies that were trapped in it.

The flower's scent is strong and attracts flies and other insects but could be unpleasant to some people as it resembles a rotten meat smell. You can keep the plant downwind or away from the house and keep the flies away as well!

The Pelican flower vine can be grown in containers on a trellis and be brought indoors during winter. It's ideal to plant in hanging baskets where it can be kept to a manageable size of 2-4 feet long.

It takes about one to two months for the seeds to germinate.
Gallery Images
Other items you might like
There are no items related to this one!
Customer Reviews
These reviews have been submitted by our customers, if you have purchased this product - why not Write a Review. No reviews as yet...
Your Basket
Bestseller
Search Store